I've been waiting patiently for 3 weeks to do this ProVari review. I've held back from doing a review too soon, to thoroughly test this product out. For those of you who are looking to upgrade your e-cigarette mod to something better, well I've got news for you… the ProVari is the best thing I've ever come across.
Over my 3 weeks of testing, I could not fault this unit at all other than the fact that it's one heck of a bank account killer – this electronic cigarette mod is very expensive. But before I talk about the ridiculous price tag, let's look at why the ProVari might be well-worth paying for.
Just so you know in advance, that I personally bought this unit and it wasn't given to me free to review.
The ProVari By ProVape: A Short Introduction
The Provari is a variable voltage (or "vv" for short) modified e-cigarette. It is suitable for people who are e-cig enthusiasts who enjoy vaping on different voltages.
Vaping on higher voltages will in general, produce better flavor as well as vapor, but the mod is only part of the equation. The other half is reliant on what type of atomizer setup you have – i.e. are you using a cartomizer, a tank, or are you dripping?
The Provari only comes with one button you can manipulate and by pressing it in a particular sequence, you can change your voltage on the fly. It is capable of delivering a maximum of 6 volts. For high voltage vaping, you might want to consider getting yourself some high resistance atomizers (the low resistance ones will not work with the Provari due to its safety feature).

Looks & Style
The Provari's built with beautiful craftsmanship and quality materials, what else can I say, it's beautiful. From a distance, it looks like a laser pointer or a light-saber. I sometimes run around the house with my Provari light saber swing and dicing up Storm Troopers.
The ProVari comes in several colors and if I'm not wrong, you can get one in Satin, Chrome Black, and White Chrome finish (which is the one I got – see image above). I wish I had gotten a satin finish  instead, since the white chrome is extremely prone to fingerprints. Some of my friends bought the black chrome and they claim it doesn't leave fingerprints. There's even a new Gold ProVari that just got released by ProVape, but it looks horrible and costs $300!
It's just a big annoying, because I have to constantly wipe my white chrome ProVari to get rid of the prints. It does however look really classy and it sets itself far apart from other cheap and crappy looking electronic cigarette mods out there.
The LED Display
The LED serves many different functions. Just off the top of my head, it gives you readouts of:
The battery life
The current resistance of the atty in Ohms
The current voltage
Any error messages (such as if your atomizer can't handle the higher voltages)
Various other features which I've never messed around with
The ProVari's LED screen sets it apart from other comparative devices such as the new Buzz Pro, which is a similar electronic cigarette mod but it doesn't have a readout to tell you exactly what voltage you are vaping at.
Size & Weight
The Provari is a pretty heavy device. The shell itself doesn't weight all that much but once you throw in the battery and the end cap, it start to feel pretty weighty. Add on a tank and atomizer and this thing starts to feel a bit similar to a handheld flashlight – very similar in fact.
The feel is solid and all the seams in the metal are very well done with a super flush surface. Many people I know of have dropped their units on the ground with no ill effect other than some minor scratches. It's very nice to hold in the hand, and when I'm at my desk, the Provari rarely ever leaves my hand. I might have been chain-vaping because of this.
It isn't too heavy to take out of the house, but I rarely do so with mine because I'm afraid of dropping it – I just love it too much. But compared to other e-cigarettes, the Provari is significantly heavier.
Battery Life
It's difficult to judge on battery life for this Provari review because the amount of usage you get out of the battery can fluctuate depending on what voltage you have the device set on, as well as what sized battery you're using and how frequently you fire up the atomizer during the course of the day.
I have 2 different batteries:
The AW 18490 1100mAh
The AW 18650 1600mAh
I have mine set at between 4.7 and 5.2 volts at most times, as that's my sweet spot. I get the right amount of flavor and vapor at those settings. I vary the voltage depending on which e-liquid I'm using. I've tried vaping at the range of 5.5 – 6 volts and the cartomizers I use just get way too hot and the flavor starts to decline.
So at this voltage, I normally get a day's worth of vaping out of it. With the larger 18650 batteries, I get a couple more hours of use out of the unit but that's about it. So when you make your purchase, buy a couple of extra spare batteries so you'll never have any downtime due to charging.
The default battery to use with the Provari is the AW 18490, but I also bought the 18650 extended battery with my purchase. To use the 18650 batteries, you'll need to purchase an optional extender cap and this makes the Provari unit about 2 centimeters longer.
What Else I Bought
This Soshine battery charger is an additional purchase and an essential one. It's the only way to get those red AW's charged up for the Provari. I ordered it from ProVape and it costed me $25 extra but it can be purchased elsewhere as well. The charge time is extremely fast, from a flat battery to a full charge in 30 minutes.
Thoughts About the ProVari's Performance
In terms of performance, this mod wins, hands down. I've never come across anything else that does what it does.
Initially, I was thinking of purchasing a Silver Bullet mod for higher voltage vaping, and it is a lucky thing I didn't. The SB just isn't as flexible as the ProVari in terms of voltage.
What I've Tried Using on the Provari
I've tried using the Provari with 510 atomizers and direct dripping, along with Boge cartomizers, Smoktech dual coil cartomizers.
Although they were all great with this mod from ProVape, the best way to vape with the Provari is in conjunction with the new "Liquinator" 3ml tank. It is like the ultimate combo in your hands.
I'll do a review of the Liquinator as soon as I get the chance, so look out for that.
Here's a quick video review I did to demonstrate the Provari's vapor production: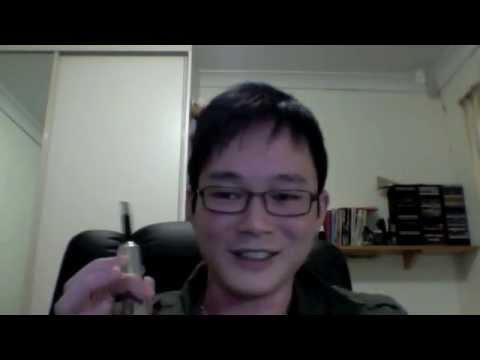 My Conclusion
I've got nothing bad to say for the first time in my review as the Provari is definitely a vaping enthusiast's dream. But not everyone's willing to spend $179 on an electronic cigarette.
If you've been vaping for a few months now and you're sick and tired of buying the "next best thing", then the Provari is definitely worth the investment.
I'd highly doubt that you would have the urge to buy anything else once you've tried this. It's seriously the best device out there on the market and will be for many years to come.
I've stopped looking around for better products since purchasing this mod, simply because I know that nothing out there can compare in terms of both looks and functionality.
With the ability to shift my voltages via 0.1 increments, I've been able to find my own personal sweet spot for vaping and truly bring out the best in all my e-juice flavors. All my old e-liquids taste better at higher voltages.
You get the best of both worlds here, with Ego style 3.7 volt vaping, or you can rock it all the way up to 6 volts for extreme vapor production and a solid throat hit from your e-juices. It's just that flexible.
Thanks for checking out my ProVari review. Got questions? Leave me a comment below!
Head Over to the ProVape Website to Get Your Own ProVari