Hi guys. I'm really excited because this week I received the Halo e cigarette starter kit for review from "Halo", a US-based e-cig and e-liquid company. So let's get right into the "meat" of this review and talk about some pro's and con's of the device, and how it is different from other e-cigs on the market…
Size & Weight
The length and weight of the Halo e cigarette is no different to any other skinny/slim e-cigarette out on the market, so there is nothing really new to report about. I generally don't fancy these skinny e-cigs due to their really short battery life, but in the case of the G6, I think I'll be using this regularly as my ultra-portable e-cigarette (see next section about battery life).
Note: The Halo e-cig batteries and cartomizers will not work with 510 e-cigs simply because they are not 510's. They are KR808D-1's.
Battery Life
The battery life of the G6 e-cigarette I discovered, is slightly better than the standard KR808D-1's that you buy elsewhere.
Pre-charge
Before using the G6, I followed the manual as instructed and charged the battery for 8 hours (overnight in fact). The instruction manual also suggests that you should use the G6 for 20 minutes during first-use, then give it another charge of around 2 hours (I did that as well).
So how long did the battery last? I went on vaping through 10 minute intervals continuously for 4 hours whilst working in front of the computer. You could consider that chain-vaping if you like. After the 4-hour mark, the LED at the tip of the device blinked and the atomizer ceased to fire. I didn't expect that the battery charge would have lasted that long.
Halo also mention the use of "Infiniglow" on their website, which is the name of the technology they use for enhancing battery life. I don't really know much about this to be honest, but all I can say is that the battery does last a fair bit longer than standard KR808D-1 kits. Interesting…
I think that if you were to take a freshly charged G6 out for the night, it would definitely last you till you got home. Compared to the Elusion e-cigarettes I bought, these G6's lasted way longer. But to be fair, the Elusion e-cigarettes are also a lot smaller (too small to be economical – battery wise).
Note: This manual battery also has a safety cut-off feature of 5 seconds.
Check out my video below to see it in action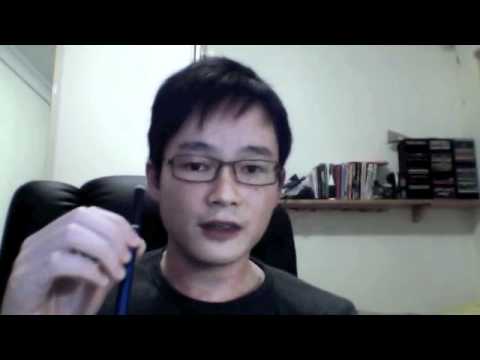 Looks & Aesthetics
These Halo e cigarettes are seriously the most beautiful slim electronic cigarettes I've ever seen. As you can see from the photos I took, the battery's of the G6 is covered with an anodized aluminum shell (blue), giving it a very smooth, slick feel. It is definitely nice to touch and looks ultra-stylish.
I'm not a big fan of LED tips but the G6 I received comes with a big fat blue-colored LED that turns on every time I hit the manual switch to fire up the atty. Although I do prefer e-cigarettes without "lights", the LED's do serve the purpose of letting you know when your battery's drained and when it's fully charged – so in that way, they are an essential feature.
When the battery is charging, the blue LED light will come on and when it is fully charged, the lights go off. The charger's light itself remains constantly on when plugged into a power source (just in case you're wondering).

Vapor & Taste: This is where the G6 e cig shines
I was happy with the amount of vapor coming out of the G6 atomizer, and the vapor was pretty thick. Halo's website says that their smoke juice provide "amazing throat hit & flavor", but I reckon the throat hit is decent only, and at about the same level you'd get from smoking a regular tobacco cigarette. I'm used to getting much stronger throat hits these days but that can only be achieved with a higher nicotine e-liquid and a more expensive, higher voltage e-cig device.
Now, you are free to fill up the G6 cartomizers with whatever nicotine juice you like but I decided to stick to Halo-only e-liquids to do a fair review. Here's what I thought of them…
Halo E-liquids
The guys at Halo also sent me a tin of their sample juices (7 bottles in total) and the flavors were really light yet strong, but not overwhelming. It was "just right". I've tried many different e-liquids from different manufacturers and sometimes, some e-liquids from one company would taste really similar to ones from another.
For example, the "Cherry Cola", "Red Bull", "RY4″, "Banana Foster" flavors are all too common. Most of these flavors would differ slightly from one another but the ones from Halo were really unique. They were like nothing I've personally tasted before.
From the first inhale, I could tell that these e-liquids were of the premium blend, and really stand out from the cheaper nicotine e-liquids you buy from China. Halo pride themselves in providing high quality, premium e-liquids that aren't manufactured overseas. I think this is very important as US-made e-liquids are generally made with stricter quality control guidelines. I mainly buy my juices from the USA these days as I'm pretty picky about what I inhale into my lungs.
If you want to buy e-liquids from Halo, my top 3 recommendations are:
Malibu – a fresh, light menthol, tropical flavor just like the Malibu drink.
Tiki Juice – a sweet tropical fruit mix (I think there's apricot, pineapple and some other fruity flavors in there), very nice and mellow.
Torque – a very good tobacco flavored e-liquid for those of you who aren't into fancy flavors and just want something that tastes similar to a real cigarette.
Halo E cig Anti-burn Technology
This is the best part! First of all, cartomizer poly-fill are very prone to burning. You have to keep the filler material constantly wet with e-liquid. I haven't experienced the cartomizer burning with the Halo G6. On their product page of their website, they say they use their patented technology called "Flameguard".
One thing I've noticed is that with standard 510 style cartomizers, the wick is quite visible. With the G6 e cig, the wick is no where to be seen. I think they have it sitting right at the bottom to reduce the burning of the filler material – smart.
When the filler burns, the vapor emitted can be really horrible tasting and it actually hurts my lungs and throat when I inhale, so this is definitely a really good feature to have.

Juice Capacity
Juice capacity on the Halo G6 is average and one full refill will last you around 2 hours of continuous vaping. That is pretty decent in my books. Always carry spare cartomizers with you as a precaution.
Is this a good e-cigarette for beginners?
Definitely, and without a doubt, the Halo G6 is one of the most easy to use electronic cigarettes I've ever come across. Very easy to refill on your own, and easy to manage. I haven't had any e-liquid leaking out of the cartomizer either.
Tip: When you first use these, fill it up with about 25-30 drops of e-liquid and let it soak into the cartomizer filler for about 15 minutes before vaping. This produces better flavor and seasons the filler material for consecutive refills.
Conclusion: The Pro's & Con's
Like I've mentioned before, I like my PV's (personal vaporizers) to last especially when I'm heading out for an entire day. So my criteria for a portable PV are:
excellent battery life
good e-liquid capacity
With the slim form factor and size of the Halo G6 e-cig, you can't really ask for much. If you want more battery life and more juice capacity, you're going to need something bigger and more bulky and it can be a hassle to carry around when you're out of the house.
The thing is though, this e cigarette starter kit comes with 2 batteries, so there is nothing stopping you from carrying both of them out with you in your pocket. They're definitely light enough so carrying another battery and cartomizer isn't really going to make any difference.
I like the Halo e-liquids… but I don't love them. Over time, I've developed my own personal preferences in terms of tastes and I prefer dark chocolate and coffee flavors as well as tobacco and rum now. This might change in time, who knows?
But as the saying goes, "one man's meat is another man's poison" and this is ever-so true when it comes to what you like to vape. Without a doubt, quite a number of you are going to get stuck into these flavors.
Features at a glance:
An anodized aluminum shell (beautiful)
A rubberized manual switch battery
"Flameguard" anti-burn technology
"Thermoflow" smooth heated vapor
"Infiniglow" enhanced battery life
Also available from Halo:
blank cartomizers $8.15 each (pack of 5)
cartridges $4.25 ea
Basic 510 starter kit $54.99 multiple colored batteries
pre-filled cartomizers (pack of 5). $9.99
More you buy, cheaper it gets (they discount on bulk buys, check the website)
The Halo e-cigarette is in my opinion, great value for money especially if you're new to vaping, and can't be bothered mixing your own e-liquids and just want something quick and easy to get started.
Update Report (15th August 2011):
After several weeks of continual usage, I'm pleased to report that I actually DO like these Halo e-liquids, and very much so! My current favorites are the Menthol Ice, Freedom Juice, Tikki Juice and Prime (this one has a really nice, sweet & warm flavor to it). To me, these compliment my regular vapes perfectly. Ask any e-cig user and they'll tell you that they rotate around several flavors. I did get quite sick of vaping the same usual e-liquids day in and day out, so these Halo e-liquids stopped me from getting sick of my current favorites.
Also, I've not had to use any of the spare cartomizers that came with the starter kit. These cartos are doing so well, and the one I'm using has been going strong for 3 weeks now, with a lot of flavor. I wonder what the guys at Halo do to make these cartomizers so exceptional?